Our network of agencies has the capacity to offer, throughout France, the rental of this unique trolley to help prevent risks and increase the profitability of construction sites. Our exclusive partnership with K-Ryole also enables us to offer new solutions to meet the challenges of zero-carbon mobility. Marketing Director France
Xavier BOULET
Marketing Director France
Thanks to Kiloutou, four products from the company K-Ryole are available for rental throughout France.
For a short period (1 to 30 days) or a long period (24 to 72 months), the following tools are available to rent: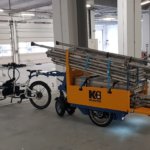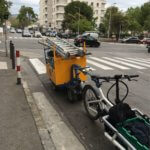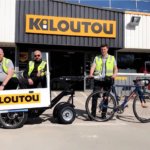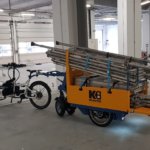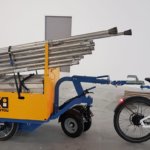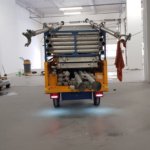 K-Ryole's globally patented technology allows anyone to pull several hundred kilograms of load without any effort. Designed by the engineering department, it works thanks to a real time force measurement system. The measured information is transferred to the electric motors, which instantly cancel the traction force.
This technology is available in 2 ranges of intuitive electric vehicles, designed and manufactured in France:
Bicycle trailers to solve the transportation of heavy and imposing loads, in a gentle way, in often congested cities
Intuitive trolleys to reduce the strain of manual handling, especially on construction sites
THE INTELLIGENT ELECTRIC BICYCLE TRAILER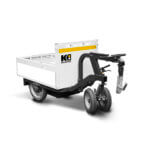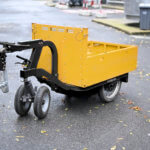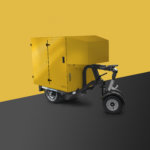 K-Ryole is the electric trailer that allows to transport 250 kg, by bike, without any effort. With no noise or environmental pollution, it can tow 1.3 m3 of cargo, with any type of bicycle (electric or not) and in any urban space (standard cycle tracks).
PickUp – Module ouvert
La K-Ryole PickUp, ouverte, permet un emport de charges volumineuses maximal. Elle est destinée aux tournées de livraison des professionnels, ou encore aux besoins spécifiques des particuliers (déménagement, voyage…).
Utilitaire – Module fermé
La K-Ryole Utilitaire, fermée et sécurisée par badge RFID est utilisée pour la distribution de plis et colis, pour des livraisons alimentaires, mais aussi pour de la collecte de bio déchets.
Ses atouts :
250 kg de charge
1,3 m2 de volume
70 km d'autonomie
3000 Watts de puissance
Grâce à son système de capteurs d'effort et son énergie électrique, K-Ryole est l'outil français pour les logisticiens, les retailers et les négociants qui souhaitent supprimer la pénibilité du transport de charge à vélo, contribuer à la réduction de l'impact environnemental de la logistique urbaine et réduire par 10 les coûts de livraison (comparé à un véhicule utilitaire léger).
Vous souhaitez louer une remorque vélo électrique ?
Allez directement à l'accueil des espaces #Kiloutou à #Paris, #Strasbourg, #Nancy, #Besançon, #Dijon, #Canéjan, #Bron, #Dardilly, #Nice, #Toulouse, #Toulon, #Marseille et #Avignon
Contactez la responsable commerciale : marie.gribaudo@k-ryole.com

UN CHARIOT DE MANUTENTION ÉLECTRIQUE INTUITIF

Kiloutou est le partenaire exclusif pour la location du chariot électrique « Kross Builder ». Kross Builder est le seul outil de manutention mécanisée, utilisable par tous, pour accompagner les ouvrier.e.s, même dans les espaces les plus restreints.
KROSS BUILDER 250
Toute personne peut tracter 250 kg, sans effort et sans formation.
Avec son bac de chargement, Kross Builder 250 est l'outil idéal pour tout type de manutention, jusqu'au dernier mètre.
Son module générique est adapté à tous les chantiers – de TP, de BTP et d'industrie – qui nécessitent le port de charges lourdes et volumineuses dans des endroits restreints.
KROSS BUILDER 500
Toute personne peut tracter 500 kg, sans effort et sans formation.
Son option "benne" permet l'inclinaison du bac de chargement à 45°.
Son module est spécialement conçu pour des applications précises et dangereuses, telles que les chantiers d'enrobés et de coffrage.
Ses atouts :
500 kg de charge
Jusqu'au dernier mètre de la manutention
1 semaine d'autonomie
3000 Watts de puissance
La manutention manuelle est la cause de 50 % des accidents du travail (AT) et des Troubles Musculo-Squelettiques (TMS) sur les chantiers. Kross Builder réduit drastiquement les risques pour les opérationnels et apporter plus de rentabilité aux responsables des chantiers.